Black on Black
Iran revisited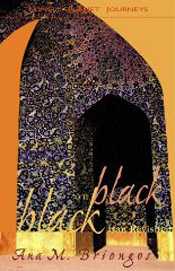 Black on Black: Iran revisited. Shortlisted Thomas Cook Travel Book Award 2001
We live in a time of significant historical change where the information we receive is often biased. This is especially the case with less known countries and cultures, particularly Islam and more specifically Iran.
Ana Briongos wrote these travel journals twenty years after her first journey to Iran [1974]. The result is a charming travel book, a journey of affectionate feelings.
In those days Iran was a westernized country ruled by the Shah. A few years later, though, the Islamic Revolution unfolded.
Twenty years later, the author returns to the country and describes the way of life in today's Islamic Republic of Iran. She recounts stories of a contradictory and fascinating country.
She also writes about the Americans living there, Mosadeq, the Caspian Sea and caviar, about opium, Nowruz , and Persian gastronomy, and about education in the madrassas and universities. She narrates the story of a general from the Shah's army, about life in Ghom, the Shiites, and of course about Khomeini. Throughout the book, you will learn of different minorities, including Armenians, Jews and Kurds, and you will also follow the touching story of Rave and her granddaughter Bubu.