Winter in Kandahar
Life in Afghanistan before the Taliban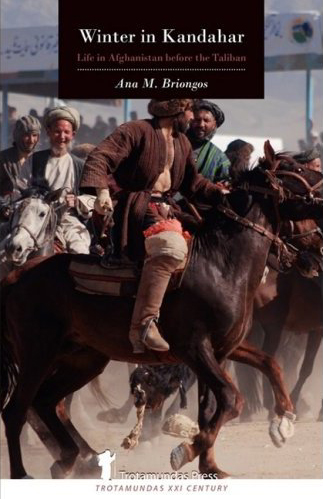 Winter in Kandahar: Life in Afghanistan before the Taliban
Thirty years after her first trip to Afghanistan and with most of her Afghan friends now in exile, the author remembers her first visit to Kandahar at the age of twenty-one, as well as her later stays in Kabul under the auspices and protection of a Pashtun family from the Mohammadzai clan. She reflects on several stays in Afghanistan over a period of ten years mixed with her studies in Persian at the University of Tehran.
Some of the protagonists of the book are extraordinary people who appear in a story of friendship taken to the extreme in the Afghanistan of King Zaher Shah and his cousin Daud Khan. This was a time when Afghanistan was still a country of surprises, of mystery, and of questions without answers, where things that happened were not expected to happen.
There was intrigue mixed with stories of love and hate, where the author, a woman observing from the position of a privileged insider, describes the tribal structure of Afghanistan, its clans, the diverse ethnic groups and languages of the country, the struggles for power and the fighting among brothers, the story of the robber king, the last days of a decadent court, the rising of the communist party and its Islamic opponents, the coup d'état by the aristocratic Daud, the Soviet invasion, and the Afghan Diaspora.
It has two parts:
Winter in Kandahar
The author explains why a journey to India never reached its destination. The story takes place in three locations, each of which offers a unique vision of Afghanistan: the Bazaar (the lives of merchants and traders); a judge's home (how women used to live), and the Pamir Hotel (what foreigners used to do on their way to the East). These locations are described from the point of view of a young woman who travels alone and settles down in the south of Afghanistan to spend the winter.
In 1998 this book won the special prize of the Jury of "Great Travellers Prize of Aramaio" (Alava, Spain).
Ballad for a lost friend
Ana M. Briongos writes about her life in the capital of Afghanistan, Kabul, the charismatic people she met there, the families she lived with, the job she had managing an Air France office, and her numerous travels within the country, all mixed with true stories of love, friendship and suspense.